Welcome to the website of the "Pod Lesem" recreational apartments in Rodvínov
If you seek a comfortable place to relax, just visit the two guest accommodations we offer in the village of Rodvínov, 4 km from Jindřichův Hradec, about 26 km from the border with Austria. You may opt for one of the two units in a newly-built, modern building, accessible to the disabled, or an apartment in the attic space of the family home next door. Both houses are located in a quiet part of the village, about 30 m far from each another. The attic apartment can accommodate 6 to 8 persons. One of the newly-built apartments with accessibility for the disabled has a capacity for 4 persons; the other one, with a capacity for 8 persons, is not yet in operation. Each of the apartments has the availability of a separate pleasant outdoor seating under a pergola with a grill. There are unlimited parking spaces and a bicycle storage place.
Aktuality
Pár volných termínů na léto
apartmán A (vždy 2 noci) : 1.-3.6., 21.-23.6., 13.-15.7., 22.-24.7., 24.-26.8.
apartmán B : 4.-9.6., 11.-14.6. 21.-23.8., 30.8.-1.9.
Trampolína
od 9/23 již NEBUDE u podkrovního apartmánu C k dispozici trampolína.
Dárkové poukazy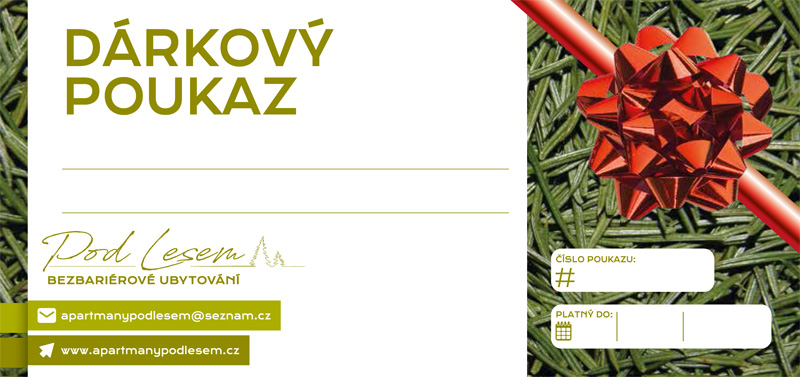 Nabízíme zakoupení dárkových poukazů v jakékoliv finanční hodnotě nebo na konkrétní typ pobytu.
Apartments
provide
Accessible to the disabled
Free WiFi
Mushroom season
Cycling
Parking
Payment by card